Changing Lives Across Pakistan
Initiated in 2001, the LUMS National Outreach Programme at LUMS promotes cultural diversity and inclusion by extending the benefits of world-class education to talented students all over Pakistan. This prestigious scholarship programme focuses on identifying bright students with exceptional Matriculation and FA/FSc results and inducting them into the LUMS undergraduate programmes. The students who qualify as NOP scholars are provided full financial assistance. To date, LUMS has inducted over 1380 NOP scholars, and over 920 have graduated and are out in the world pursuing challenging careers and supporting their families and communities.
 
Time left to submit NOP SCS Online Application
Fill out the NOP Online Application before the deadline!

Find out what the NOP Summer Coaching Session is all about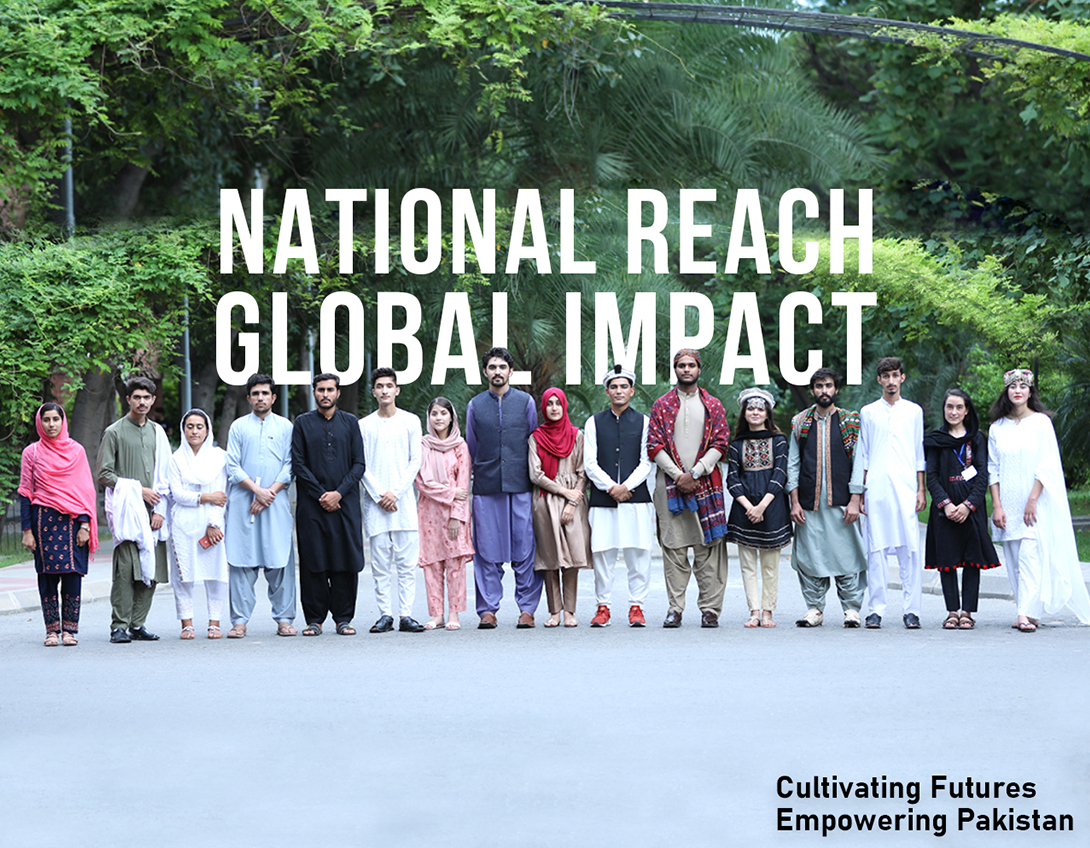 National Reach, Global Impact
The goal of LUMS as a university is to invest in Pakistan's future by creating tomorrow's leaders. And the National Outreach Program (NOP) is the most critical and central program that advances this goal. The mission of NOP is twofold: To eliminate educational inequality in Pakistan by making high quality education available to the most talented students, irrespective of financial means. And through these students, to build a movement of diverse and capable leaders committed to a prosperous Pakistan through their own contributions to their communities and country. 
NOP inducts students from across the country belonging to different ethnicities, beliefs, and backgrounds. The NOP Outreach Team works tirelessly to visit more than 145 cities, conducting introductory sessions and encouraging students to apply for the programme. Scholars joining LUMS hail from a growing number of cities each year. This diversity from across Pakistan is a testament to the deeply rooted patriotism that this scholarship embodies.
NOP is not like any other scholarship program. It is a very prestigious and rigorous fellowship programme. This means that it is not just a scholarship providing free education. Instead, it includes essential elements for the students who become part of the programme. During admissions, students are trained in and assessed for, the ability to cope with the rigours and pressures of studying at LUMS. The most suitable candidates are selected for joining the university. Then throughout their time at LUMS, NOP scholars are required to engage with a range of enrichment, enhancement, and skill-building resources. This includes resources available for all students at LUMS and special resources that have been exclusively curated for the prestigious NOP program. NOP scholars are also expected to contribute back – not just after graduation, but even during their time at LUMS- by engaging the NOP community on campus or giving back to their own communities at home. Finally, after graduation, student-turned-alumni are invited to participate in mentoring the students on campus or join the outreach being done throughout Pakistan for future students.
Rigour and prestige go together. Just like LUMS is known as a rigorous and, therefore, prestigious university among other universities. Likewise, NOP is a more rigorous and prestigious program within LUMS. The various elements mentioned above – learning opportunities prior to admission, engagement with exceptional enrichment opportunities on campus, and expectation of giving back as students and as alumni – all make NOP a fellowship program unmatched by any other program at LUMS or the whole country or even region, which has been recognized by the various international awards given to the LUMS National Outreach Programme over the years. 
Today, NOP alumni are an ever-growing fellowship of leaders driven by the desire to build stronger communities leading to a progressive nation. As a result of aiming to bring the brightest minds of Pakistan to LUMS since 2001, NOP has inducted more than 1465 Scholars into the programme. It has produced over 1025 graduates with more than 55 International Scholarship recipients studying in the world's most renowned universities. It is a privilege to see NOP students in highly competitive job markets, entrepreneurial initiatives, and academia, not just in Pakistan but in well-renowned establishments across the globe.
In short, NOP scholars benefit from the multicultural environment, capable faculty, enlightening studies, rich campus environment and exceptional and prestigious NOP-focused enhancement opportunities at LUMS to build a solid foundation for life-long learning and success. Joining the most rigorous university in the country and then the most rigorous program at that university, NOP students ascend to the pinnacle of higher education in the country. This personal transformation and experience form the foundation for their social contributions: today, NOP alumni are spread across continents and form a cadre of impactful change-makers who are an asset to their communities and to the entire nation. 
We aim to continue supporting the brightest minds across Pakistan, who can then become the pillars of this country's future.
 
NOP Summer Coaching Session
Important Dates
The NOP Summer Coaching Session Application process 2024-25 is expected to run according to the usual timelines
Events & Highlights
Resources
Outreach News
From the verdant plains of Punjab to the dunes of Balochistan, read about the diverse experiences of the NOP team as they reach out to students in schools and colleges in remote towns and cities.
NOP Events
Trainings, sessions and meetups – read on to find out the exciting happenings at the NOP Centre.
Testimonials
NOP alumni are trail-blazers in a vast array of industries and sectors; some are pursuing higher education at premier institutions worldwide. Here are some stories of the impact of the NOP.
All
وقاص حیدر

بی ایس سی مینجمنٹ سائنس

وقاص حیدر نے 2015 میں LUMS میں شمولیت اختیار کی اور 2014 سے نیشنل آؤٹ ریچ پروگرام سے منسلک تھے جب انہیں NOP سمر کوچنگ سیشن (SCS) کے لیے شارٹ لسٹ کیا گیا اور اس میں شرکت کی۔ جن کا تعلق ملتان سے ہے۔ وقاص علی ٹرسٹ کالج، اسلام آباد میں پڑھ رہا تھا جب اس نے NOP SCS کے بارے میں سنا۔ ایک انٹروورٹ ہونے کے باوجود، وقاص نے LUMS میں اپنے وقت کا بھرپور لطف اٹھایا اور واپس آنے اور اپنے مطلوبہ انڈرگریجویٹ پروگرام میں داخلہ حاصل کرنے کا عزم کیا۔

NOP سیشن کے اختتام کے بعد، میں نے خود کو SAT امتحان کی تیاری میں لگا دیا۔ نومبر 2014 میں، میں نے لاہور میں SAT تیاری اکیڈمی میں شمولیت کے لیے سپیریئر کالج سے ایک ماہ کی چھٹی لی۔ چونکہ ہاسٹل کی فیس ادا کرنے کی استطاعت نہیں تھی اس لیے میں پنجاب یونیورسٹی کے ہاسٹل میں ایک دوست کے ساتھ رہنے لگا۔ لیکن بدقسمتی سے پاکستان کو اپنی تاریخ کا سب سے المناک واقعہ - اے پی ایس حملہ کا سامنا کرنا پڑا۔ سب کچھ خاص طور پر ہاسٹل بند تھا۔ مجھے یاد ہے کہ میں نے اپنے دن اکیڈمی میں گزارے اور راتیں ڈائیوو ٹرمینل کلمہ چوک پر گزاریں لیکن 24 جنوری 2015 کو اپنے SAT تک ملتان واپس نہیں گیا۔ میں نے اپنے گھر والوں کو نہیں بتایا کہ میں کیا گزر رہا ہوں۔

LUMS میں پہنچنے کے بعد، وقاص نے جوش و خروش کے ساتھ خود کو تعلیمی اور غیر نصابی سرگرمیوں میں جھونک دیا۔ ان کے کچھ قابل ذکر عہدوں میں LUMS ایمنسٹی انٹرنیشنل (2017-18) کے صدر کے ساتھ ساتھ EMS میں ڈائریکٹر ہیلتھ اینڈ ایمرجنسی لرننگ پروگرام شامل ہیں۔ وقاص NOP SCS 2016 اور 2017 میں ایک انتہائی فعال رضاکار بھی تھے اور ان یادوں کو شوق سے یاد کرتے ہیں۔

Waqas Haider

BSc Management Science

Waqas Haider joined LUMS in 2015 and was associated with the National Outreach Programme since 2014 when he was shortlisted for and attended the NOP Summer Coaching Session (SCS). Hailing from Multan. Waqas was studying in Ali Trust College, Islamabad when he heard of the NOP SCS. Despite being an introvert, Waqas thoroughly enjoyed his time at LUMS and vowed to return back and obtain Admission in his desired Undergraduate programme.

After the conclusion of NOP session, I put myself into preparation for SAT exam. In November 2014, I took one month leave from Superior College to join SAT preparation academy in Lahore. As couldn't afford to pay hostel fee so I started living with a friend in Punjab University's hostel. But unfortunately Pakistan experienced most tragic incident of her history – APS attack. Everything was closed specially hostels. I remember spending my days in academy and nights at Daewoo Terminal Kalma Chowk but didn't go back to Multan till my SAT on 24th January 2015.  I did not tell my family what I was going through.

After arriving at LUMS, Waqas threw himself into academics and extra-curricular activities with zest.  Some of his notable positions include being the President of LUMS Amnesty International (2017-18) as well as the Director Health and Emergency Learning Program at EMS. Waqas was also an extremely active volunteer in the NOP SCS 2016 and 2017 and recalls those memories fondly.

While volunteering, I met Ma'am Shandana at the NOP Centre. I went to meet her in the office with trembling legs, as I had made a small faux pas. After telling me what I did wrong in the morning she said, "You are my student – you are an NOP student and my student needs to not be an introvert but should open themselves to the opportunities available to them. You need to work on your personality and grooming. You will meet me once every week". From that day till the last meeting, each week I used to get a short pep-talk regarding the areas of growth in my personality and the tasks for the next week. In those three years, Ma'am Shandana worked on every aspect, my academics, my communication skills even my fashion sense and every good quality that I possess today.

Waqas graduated as the first Valedictorian of LUMS in 2019, completed his fellowship at Teach for Pakistan in 2021 and is now working as a Program Manager at Amal Academy. Setting a shining example of the paying back to society concept, Waqas has been working on his own social project – Chiraagh since 2016 which aims to bridge the socio-economic gap by empowering the youth of Pakistan. Till date, his organization has sponsored education of over 250 students at different levels. In November 2020, he inaugurated the Chiraagh Vocational Training School to equip the population in his village with skills and provide them access to the market so that they can earn and hone their skills. 

Most of the villagers in my village are daily wagers and literacy rate for both girls and boys is very low. Hence the inspiration behind Chiraagh was to give back to my village, my society and my country.

Waqas' long term goals include getting his Master's degree in education and work as a policy maker in education department of Pakistan. Alongside he wishes to expand and strengthen the Chiraagh network.

If it wasn't for the LUMS NOP scholarship I don't know where I would have been today. The programme has not only funded my education but the staff at the NOP Centre completely changed my life. The support that I received from Ma'am Shandana, Ma'am Sadia, Ma'am Shajia, and Sir Sharjeel was enormous. These were the people who motivated me to be what I am today and contributed at every step that I took. I would urge all current NOP students to make maximum use of every resource on campus as they always go above and beyond for us.

 

Haseeb Ahsan Javed

BA LLB

Haseeb Ahsan Javed is a National Outreach Program (NOP) scholar from Depalpur, who completed his BA-LL.B. (Honors) from LUMS in the year 2015.

"Law was the last choice on my priority list when I applied to LUMS. Back in those days, I was least interested in pursuing this degree.  However, despite my personal inclinations, I decided to study law (a decision which I certainly do not regret) because the National Outreach Program was the only hope for me to continue my education and obtain a degree from a renowned institution."

Coming from a humble background, the struggles that Haseeb encountered growing up, motivated him to work hard and stay committed to his studies. His hard work ultimately paid off when he was granted a scholarship in F.Sc, and was, subsequently, selected as an NOP Scholar at LUMS.

"Life at LUMS was a difficult yet an exhilarating journey, which gave me the opportunity to prosper and become who I am – a more confident and definitely a more refined person. During my five years at LUMS, I came across, and made friends with people from extremely diverse backgrounds, with different life stories and experiences to share, which all added to my personal experience. I had a hard time adjusting to the new life, but in retrospect, I realize that without those challenging days (which include failing a few subjects and falling below the minimum GPA requirement to retain my scholarship!), I wouldn't be where I am now. LUMS taught me to never give up, no matter what the circumstances are. I continuously worked on honing myself to become better and bring myself back up to the benchmarks I had set for myself"

During his stay at LUMS, Haseeb became a part of number of societies. He also conducted information sessions and coaching classes in his hometown for students who were interested in applying to LUMS. He assisted them in the admission process, and prepared them for the admission test as well. During the last two years of his degree, Haseeb was given the opportunity by one of his instructors to work at his law firm, who described his journey as "per aspera ad astra".

After getting strenuous training in litigation and corporate advisory for approximately two years, Haseeb is currently running his own law firm in Lahore, since the year 2017, where in addition to his private litigation practice, he is also working as  legal consultant and advisor for a number of governmental and private entities.

"Life after LUMS is definitely not a piece of cake. But there is no denying that LUMS has prepared me well to face the challenges that I am encountering, and will encounter in the future, as I strive to attain my goals and dreams."

Faisal Ahmad Khan

BSc Accounting & Finance

Faisal belongs to Dera Ismail Khan, southern KPK and it was in his last year of high school that he heard about the LUMS NOP. Restricted by financial resources from his family's side, but highly energetic with a will to succeed, he decided to apply and after a grueling admissions process and eventually got into LUMS.

"I was initially skeptical of my decision to join LUMS, because in our rural society, only a few career paths are considered to be socially acceptable, and a business degree was not one of them. Now that I reflect after around 6 years of accepting the offer letter, I can say with full confidence that this was the best decision of my life. My time at LUMS went like the blink of an eye, but I realized after graduating that LUMS changed my personality in so many ways that is not likely at any other institution. Besides majoring in business, I studied psychology, religion, philosophy, poetry and interacted with people from all walks of life"

"The NOP is awarded through a very transparent process which coupled with calling for fresh documentation and assessment every year makes it a fairly airtight process. The NOP counselor's office is another support process to help us through the tough phase of initial adjustment to the campus life, I suggest all the present and future NOP scholars should make use of this office frequently to get a wholesome experience of all the richness of opportunity LUMS offers"

While at LUMS, he was part of LUMS Literary Society from his freshman till senior year. He joined as a member and in sophomore year, he was promoted to Assistant Director Marketing and Fundraising, was promoted to Director Marketing, and finally to Vice President in his senior year. Faisal also joined EMS, got training in first aid and served as an MFR (medical first respondent) on campus. 

Just before graduation, Faisal got a job offer from a reputable bank which also operated internationally and simultaneously he sat for the preparation of competitive exams. He took the CSS exam in 2019 and while waiting for the result he applied at HBFC (a federal organization) and joined it immediately after the CSS written exam. Although the organization was very professional and had excellent work ethic, he did not feel fulfilled from this job. He then took an exam to join the State Bank of Pakistan. He joined SBP immediately after qualifying the CSS written exam. He took CSS interview during SBP training and waited for the result.

In the summer of 2020, he got allocated to Pakistan Administrative Service (PAS) in the competitive exam with a high merit position. He is currently under training at Civil Services Academy, PAS Campus in Lahore. This is the place where he feels fulfilled, where he thinks he can make an actual difference and give back to the society.

"My advice to current NOP Scholars, explore yourself, your own person, by trying out new courses that interest you, new sports you have not played before, new people you have not interacted with before, and by joining societies which catch your eye. LUMS offers all kinds of facilities to you, make use of them, for they are made for you. Furthermore, meeting new people is the absolute necessity, for that helps you grow, absorb different perspectives, appreciate the value of tolerance, and add value to the society as a whole. Go out there, learn new languages, learn about new religions, learn about varied landscapes and geographies, and at the center of all this, is the people"

Faisal is very passionate about civic engagement and support and wishes to work with the same ideology.

"My country has invested a lot in me, I got a scholarship at LUMS, I got expensive professional trainings at HBFC and SBP, I am under training at CSA as well, all this has been investment by the people of Pakistan in my humble self. My mission in this life is to give back to the society more than I took from it. I am a common man, with simple ambitions but lofty ideals dictate my way of life and thinking, and LUMS and the NOP has played a major role of the credit for this phenomenon. Thank you LUMS and NOP for changing my life"
 

BSc Electrical Engineering

Huzaifa Zubair

BSc Electrical Engineering

Huzaifa belongs to the small city of Dera Ghazi Khan and always dreamt of joining one of the premier institutions of Pakistan. When one of his seniors told Huzaifa about the NOP Summer Coaching Session, he was excited to apply for a 2 week trip to Lahore. However, upon being selected, Huzaifa felt that the 2 weeks opened his eyes and infused in him a great sense of motivation to succeed. After clearing the SAT, Huzaifa joined the SBASEE at LUMS in 2016.

During his tenure at LUMS, Huzaifa was the President of LUMS Culture Society (LCS) from 2019-20. He also joined LCS, LUMS Arts Society (as a sketch artist) and LUMS Literature Society (for the love of Literature, as he is a Urdu poet with more than 15 poems to his name, 2 of which are well approved by Dr. Moeen Nizami).

His academic pursuits and extra-curricular activities gave him a lot of practical experience that helped him land his first Job in Pakistan's best Automation (MNC) company, Avanceon MEA. As he was extensively involved in  volunteering activities at LUMS, it helped him get selected to work with UNICEF in Turkey for 2 months' volunteer ship in a refugee camp in Sakarya where he taught war-affected refugees' children in 2019.

"It was a wholesome experience where I heard the war stories, traveled Turkey, learned elementary Turkish and Arabic for teaching purposes. I also got selected in a Physics conference in Nabulus, West Bank Palestine with Govt. Security and Kurdistan Iraq for peace talks but I did not go for obvious security reasons. West Bank is under war these days" explained Huzaifa

After he graduated in 2020, he started working on my research paper which was published in Sao Paulo, Brazil in IEEE Xplore which is one of the most prestigious publications for Electrical Engineers.

He then started his job as a Technical Sales Engineer and managed successful sales of projects worth 53,000 USD. He recently got a job offer as a Project Manager in vFairs. His future goal is to be a CSP officer to serve Pakistanis at the grass-root level.

"The message that I want to give to young passionate individuals is that accept yourself, love yourself, and make the best out of it. If you cannot love yourself, you cannot love anyone enough. Hard (and smart) work can beat talent. Dream big until they call you crazy. Thank More, Excuse Less. Never ever miss the opportunity to travel, the lessons you learn from traveling is something you can never find in the pages. Chase yourself, work on yourself, money will chase you. Last but not the least, seize the moment my friend, Live Today Fully"

When speaking of the NOP, Huzaifa stated that the way the NOP pipeline is structured, it is perfect for brilliant students to come up and see what this world has to offer.

"The NOP Summer Coaching Session is enough for a student with common sense to see what opportunity is lying in front of them, they just have to grab it! The NOP is a life-changing platform for me and my family eventually. I could have never been a LUMS Graduate without the generous support NOP provides me. I am a better person right now because of this program. I wish the NOP team to prosper and will come back to support this program within my authority whenever I can"

Syed Hussain Danish

BSc Accounting & Finance

Danish, a bright and passionate student, was always inclined towards numbers and through his hard work, managed to find himself an awed attendee of the NOP Summer Coaching Session. His persistence and diligence secured him admission to his desired BSc Accounting and Finance degree at LUMS. When speaking of his time at the university, Danish gushes with emotion and enthusiasm at how LUMS shaped him as an individual and how wonderful his memories of his alma mater are.

"Life at LUMS or as I like to call it, the LUMS Experience, is the easiest and the toughest to describe at the same time. I say easy because it prepares you for the external world using the best resources and reforms a fresh graduate into a focused professional. I say difficult because after the four year journey ends and you step into the real world, you realise how drastic the transformation has been and you wonder 'How do I even know this? Which course taught me that?' The truth is, it was not just a course or a book, it was so much more"

When asked to elaborate, Danish fondly recollects the all-nighters pulled in the computer lab preparing for quizzes, the guest speaker who touched a chord when he described his story, playing squash with students of varied temperaments, networking and strategising to land key roles in society, and conversations over endless cups of tea outside PDC with the most diverse bunch of people he never thought he would be friends

"The LUMS experience is holistic and alters you into a confident, adaptable, empathetic and a future-ready individual, opening the door to an endless world of opportunities. Getting into LUMS has helped me pave my future, to an extent which would not have been possible had it been based on my will and dedication alone. I'm talking about the LUMS NOP Scholarship that changed my life and continues doing so for many dedicated students who bear the will to study but lack the awareness or resources to do so."

Danish analogises that LUMS turned him into a locksmith and allowed him to craft the very key that would help unlock his potential to the fullest. The academics asked for an endless commitment, pushed him to look at the bigger picture, taught him to seize opportunities regardless of how farfetched they seem and exposed him to the most intelligent minds in Pakistan who were out to conquer the world. He believes that amidst this competitive environment, being selected for exchange programmes in Singapore and Austria as well as graduating on the Dean's Honor List were extremely rewarding events of his life.

After LUMS, Danish's academic and personal development helped him enter the world of Unilever as a Finance professional. 5 years down the line, he is currently on a stint at the Unilever Global Treasury Center in Switzerland and married to his best friend whom he first met in the Unilever corridors where he was struggling to reinvent the PDC tea experience.

"Saying that education is imperative would be an understatement – it works wonders. It is with this zest that I actively mentor young students and graduates for their university entrance test in the hope that their enthusiasm coupled with a solid university foundation will transform their lives. I am not in the habit of uttering quotes but one of my favorites is: 'I would like to be remembered for leaving the place a little bit better than I found it' and this is the underlying impetus behind my everyday life."

BSc Economics & Mathematics

Karrar Hussain Jaffar

BSc Economics & Mathematics

Located on the outskirts of Quetta, is the barren valley of Mariabad where the Hazara lead slow-paced lives. These tribal people, living in narrow brick huts speckled along the rugged hillside, typically sell loose cloth, sweaters or tea for their livelihood. However one student, the son of a trader who sold Quaid-e-Azam caps in Mariabad for a living, dared to tread a radically different path.

Karrar Hussain Jaffar transcended the confines of an obscure town in Balochistan, where people rarely educate themselves beyond Matriculation to study at the prestigious Harvard University. His story, a narrative about the wondrous possibilities of equal educational opportunities, is truly inspirational.

"My childhood friends, with whom I spent my youth playing cricket, drive Suzukis and rickshaws in Quetta for a living, while I am a PhD student in the US. I often wonder why God chose me, out of all the people in my community, to get ahead in life" muses Karrar in a humble manner.

Karrar attributes his achievements to his father's passion for his children's higher education. He vividly remembers the chilly morning when his father showed him the ad for the LUMS NOP, which aimed to sponsor education and living expenses for capable students who could not have afford to pay.

"I was doing my FSc at Cadet College, Kohat and did not even know a single thing about LUMS at that point in time," he fondly recollects. "I did not take the Ad seriously because LUMS did not offer engineering, the field I was interested in."

When he returned back to college from his winter break, he attended a presentation by a LUMS' faculty member, who introduced students to the NOP. At the end of the presentation the attendees all took a pre-screening exam and a few weeks later, he got a letter from LUMS inviting him to attend sponsored classes for SAT preparation.

During the four weeks he spent rigorously studying for the SATs, he fell in love with LUMS. To him the institution seemed otherworldly; its grand building, spacious classrooms and impressive teachers fascinated him. With utmost dedication, Karrar managed to clear the screening exam at the end of the four-week training and was selected to take the SAT exam, sponsored by the University. After obtaining an impressive score in his SATs, he got admitted in LUMS and was offered a full scholarship along with a monthly stipend.

Karrar graduated on the Dean's Honor List, with a cumulative grade point average of 3.7 and 3.68 in his majors, Maths and Economics, respectively. A year after graduating, he received a Fulbright scholarship to study in the US.

"I simply told the interview panel that I want to come back to Baluchistan after completing my studies. That's where my home is; that's where I belong,"

But perhaps the most memorable moment in his life — an incident he recalls quite animatedly — was when he found out that he made it to Harvard University.

"I had no internet at home in Mariabad so I walked 15 minutes or so to a nearby internet cafe to check my email for Harvard's decision," he explains. "When I saw the acceptance email, I just thought it was too good to be true. My mother asked me what Harvard was and my father asked me to wait for potential offers by other universities" he says with a laugh. "It took a while to convince them that I got into the world's top university."

Karrar completed his PhD in Economics from the University of Southern California. He wants to increase educational awareness amongst people of Baluchistan. Karrar confesses that most of his family and friends cannot even comprehend what his life was like in the US. As of present, while pursuing a myriad of research interests he is also an Assistant Professor at the Mushtaq Ahmad Gurmani School of Humanities and Social Sciences at LUMS.

Salma Begum

BA-LLB

Hailing from the vibrant city of Peshawar, Salma had big dreams and knew it was only education that would allow her to fulfill her potential. After attaining the NOP Scholarship, she graduated with a BA-LLB degree from LUMS in 2010 and started her career as a Roadmap Advisor in Adam Smith International. When asked about her journey Salma places paramount importance on focus and dedication for being the keys to success.

"Work without focus leads to only an unstable performance curve with lots of peaks and valleys, it does not yield a consistently improving performance. I thrived in life because of my constant and consistent hard work"

Salma believes LUMS is the beacon for diversity in the country; this is one of its major strengths and this is why it is among the highly acclaimed universities across the country. The academics at LUMS helped her critically evaluate the value system she acquired from living in society and rationally shape it for an individual's collective improvement.

"LUMS was the most enriching academic experience in my life. I had the freedom to choose from different disciplines which helped me in developing and shaping my personality. The courses are designed to enhance the critical thinking of students which motivates them to jump out from their comfort zones to explore their abilities and talents. It developed my confidence in interactions with family, colleagues and friends and also trained me to learn and gain from them in a short span of time. The courses improved my ability to handle pressure and perform efficiently, in short it made me tough as a person. Thus, the lessons I learned in my university life will stay with me forever."

Currently Salma is working as an Assistant Director at the National Accountability Bureau in Apex Anti-Corruption Body which is actively involved in policy reforms in important sectors such as Health, Jails, Forest and Education in the country. It is a role she does not take lightly and knows that the steps she takes now can set the foundation for many reforms for the nation. In the future, she intends to be a policy expert working for policy reforms in Pakistan and other developing countries.

"Louisa May Alcott once said 'far away there in the sunshine are my highest aspirations. I may not reach them, but I can look up and see their beauty, believe in them, and try to follow where they lead'. This quote is something I deeply believe in and I know that no matter our circumstances, we can always aspire to be better"

BSc Economics & Political Science

Zulfiqar Ali

BSc Economics & Political Science

"One of my favourite quotes is that the tragedy of life is that it gives us wisdom only after it has stolen our youth."

Zulfiqar started his BSc Honors degree at LUMS in 2009 and obtained his graduate degree from International Christian University. He occasionally counsels high school students and advises them about career options and academics in general. This came in handy when he was a part of the Shaheen Pakistan Project for a few months, a Harvard-based initiative to create an admissions-advice website for underprivileged students who wish to study abroad.

He currently lives in Tokyo, Japan and works as a Capacity Building and Training Associate at the Asian Development Bank Institute. Though now accustomed to life in a big, metropolitan city, he does remember his initial struggles of being new to a big university such as LUMS, plagued by self-doubt and insecurities.

Considering he only overcame his initial lack of confidence through his academic fervour, he wants to advise younger students to put in effort to research their options, discover their true passion and commit to finding themselves, which will help them discover new horizons.

 "You need to figure out what's the next step of your life. Nobody has everything figured out (at least the people I know don't) but you must have a short term plan and once you do, you need to visualise how to get there."

He values LUMS for the vast variety of courses it offered that helped to broaden his understanding of the world. He also feels that LUMS taught him to think beyond prejudices and made him more considerate towards everybody around him.

"I miss the cardamom tea the most. I am a Sindhi so if you cut open my veins, you'll probably find more tea than blood. The cardamom tea was a revelation! I would drink four to six cups a day cutting down on food to pay for them. Every night, we would assemble at Khokha around 3:00 AM to resume our whining about courses, CPs, how good we were if only instructors gave us a second chance (most of them did but we would still flunk classes) and all else. Eventually, you grow out of it as life moves forward but I believe, it's those seemingly redundant talks, and "waste-of-time" exercises that play a great role in getting you there."

Zulfiqar aims to grow in both academic and employment capacities and knows that wherever he goes, the values imbued by LUMS will stay with him forever.

BSc Sociology/Anthropology

Tahira Tarique

BSc Sociology/Anthropology

Tahira believes she is a classic example of how belonging to a regressive region or lack of awareness cannot stop the industrious from achieving their goals. Hailing from the famed land of Sindhri mangoes, Mirpur Khas, Tahira turned her dreams into reality with hard work and patience.

Looking back on her four years at LUMS, Tahira states that being associated with the university had a tremendous impact on her life.

"From my very first Sociology class, I was challenged to not only think about what is visible on the surface, but what lies in deeper exploration. My professors taught me that in order to fully understand a theory you must challenge it as I often challenged my professors and in doing so, you can better understand the profound meaning of the theory. My four years on campus helped me embrace, welcome and accept challenges in life. They also inspired me to go out and change the world. Just like the NOP scholarship has changed my life"

Moreover, she believes that the education she received at LUMS helped her in all her future accomplishments. She started her career as a Research Associate at Save the Children Foundation; from there onwards she has been associated with the development sector focusing on rural development, community issues, gender sensitisation and human rights. Having an experience of working in non-government organisations for about four years, she has been involved in several community driven social development programs.

She has worked with the Rural Support Program Network as a Monitoring Officer in 13 districts of Sindh and Punjab. During her fieldwork she is simultaneously and systematically studying the structure interactions and collective behaviour of the rural people and applying the gained concepts and theories. As of present, she is pursuing Higher Education in Germany and in the future, she plans to contribute on policy level work in the same sector.

"My advice to students is that the world's greatest achievers have been those who have always stayed focused on their goals and have been consistent in their efforts."

Sardar Karim

BSc Economics

In the tranquil valleys of Gilgit is where a starry-eyed boy dreamt of going where no one has gone before. A beloved son of a carpenter and a housewife, Sardar's journey from his humble beginnings to LUMS and to the highest echelons of academia at Harvard is a story to be reckoned with.

Sardar believes that life for him has always been a series of challenges. He recalls his family struggling to buy his books and paying his fees as well as his isolation at not being able to afford the things his school friends could. However, he overcame all these hurdles in life through sheer determination.

He states that the academic rigor at LUMS, the night-long assessment preparations, the environment of an open discussion and a group of students who are ready to take on the world - all prepare you for any challenge you face. He recalls that adjusting to life in Lahore and LUMS itself was no easy feat.

"The transition to the life at LUMS in an environment where students are from a diverse background and from different class structures takes a toll on anybody and it certainly did for me. As, I did not speak Urdu well (English was even worse), I felt insecure due to my accent. However I worked hard academically and that hard work ultimately paid off."

Sardar shares that he came from a village, where questioning the elders, traditions and long-held beliefs was not encouraged. At LUMS, he witnessed that one could question anything and everything. He felt it was tough to balance between two societies where one was reserved and the other one, arguably, more liberal. However, the lesson ultimately was to maintain that balance well.

"I think that the environment of support among friends, despite being in a cut-throat competition, was something you don't see in many universities. Even in the most competitive environment where grades meant a lot to almost everyone, there was an air of collaboration where learning had priority. From the faculty and staff, the support was always like that of a family."

Looking back at what he has accomplished, Sardar thinks he has to thank his work ethic and the consistency in his efforts to get to the next level. He does wish he had been more socially outgoing, participated more in societies or interacted with people a lot more. It is an advice he would give to every younger student, to take every academic and non-academic opportunity that comes their way.   

 "If anything, all these experiences have made me who I am today. I want to come across as someone who knows what he is talking about, a voice in public policy and a source of strength and hope for those millions who are not born with a silver spoon. I have conducted a few motivational speeches in universities and student conventions with an aim of making them dream and hope for better in life. I have guided and spent hours assisting students from underserved areas to find the next best opportunity where they can shine."

Currently an Assistant Consultant at the Oxford Policy Management Group, Sardar aims to use the tools obtained from his BSc Economics degree and his academics at Harvard to not just assist in educational reforms but to engage in the betterment of society as a whole.

"My advice to the younger talent of our country is never forget your roots, because that is where you will find your strength to stand the test of winds as well as the nourishment to grow."

Muntazir Mehdi Abidi

BSc Physics

Sometimes our decisions, though seemingly haphazard, are in fact leading us on a sure path to success. Despite being a brilliant student, Muntazir had no idea what field he wanted to pursue in his academic career. He could have never imagined the chain of events that were set in motion when he came to LUMS from his native town of Abbottabad. He started out in the pursuit of Electrical Engineering but later switched his major to Physics, graduating on the Deans Honor List in 2012.

After LUMS, Muntazir went on to do a Postgraduate Diploma in High Energy Physics at the Abdus Salam International Centre for Theoretical Physics (ICTP), Trieste, Italy. Additionally, he taught for some time at the Institute of Business Administration Karachi as a visiting lecturer before going for a Masters of Advanced Study in Applied Mathematics from the University of Cambridge. After completing his Masters, he is now enrolled into a PhD in Cosmology in the Stephen Hawking Group from the University of Cambridge. What Muntazir has achieved in this life is nothing short of commendable. His journey from Abbottabad to LUMS to the world-renowned Cambridge is an inspiration to us all.

When asked about all that he has achieved Muntazir stated, "the path to success is paved with seemingly insurmountable obstacles, but you cannot lose heart. Your character is defined by what you do when things get tough." Muntazir went on to describe the odds he faced as "The financial problems, sudden death of my roommate and my mother while I was studying at ICT, the sudden death of my father during my Masters in Cambridge and numerous number of rejections from US grad schools were an important instigator of my being in Cambridge, opting for a PhD. I never lost hope, stayed strong and at the same time humble. With the thought process that I will never quit, I learned to persevere and thrive on adversity"

He further adds "life is too short to actually accomplish something, but I want to be a student of science forever and would like to spread scientific awareness within my nation, especially awareness of basic sciences and mathematics".

His favourite quote is by Carl Sagan: Somewhere, something incredible is waiting to be known" and he believes that the pursuit of the knowledge will always lead to not just enlightenment but immeasurable success.

Adeela Sarfaraz

BSc Accounting & Finance

Adeela is an Accounting and Finance major who graduated from LUMS in 2009. During her time at LUMS, Adeela not only excelled academically but was a part of various societies and activities at the university. She actively participated in the Young Leader's & Entrepreneur's Summit and LUMS Model United Nations, and was part of the girls' basketball team and was a part of the Music Society. One of her most memorable experiences at LUMS was volunteering for the NOP Summer Coaching Sessions which instilled in her a drive to help people around her.

She is currently working at Deloitte, UK as an Audit Manager. She is a full member of Institute of Chartered Accountants in England and Wales (ICAEW) since September 2013 and is doing exceptionally well for herself.

"I am the person I am today because of LUMS and NOP"

According to her, LUMS has a great balance for provision of academic excellence and outclass training for the corporate world. Adeela however, had to work really hard to get where she is. She recalls a number of academically stressful situations during her undergraduate years which strengthened her resolve to never give up. She later also had to manage her professional as well as personal life which required patience, effort and making many difficult choices. She is of the view that one should maintain a certain level of balance in his/her life and says that her family is always going to stay her top most priority regardless of the growth in her career.

Adeela also has a lot of aspirations in terms of helping the community and has taken part in various projects at LUMS (CARE, SOS, and NOP) in this regard. Moreover, she has volunteered at Deloitte for numerous community projects that help the underprivileged pupils in the government schools of London. She has also put in efforts to raise awareness amongst these students about Deloitte's various schemes to help them. She further quotes that, "I have a strong motivation and drive to give back to my country and make Pakistan better in the little way I can. I would love to return to LUMS in the near future and work on helping and improving my community."

Ali Raza

Bs Computer Science

Ali joined the Syed Babar Ali School of Science and Engineering at LUMS in 2008 as a Computer Science major. He recalls that he lived on the outskirts of Faisalabad and it had always been a challenge to acquire good quality education. Hence, he feels blessed to become a part of the LUMS community through the NOP Scholarship. He considers LUMS to be an experience which transformed him into a better human being, who became more open and accepting of others' ideas and beliefs.

"I remember, at the end of each Semester the head of NOP would gather all of us and ask us about how the semester went and inquired about problems we faced and tried to resolve them. Moreover sometimes, Syed Babar Ali himself would come to LUMS and sit in the dining centre just to interact with us. That used to make us feel that someone truly cares about us and would motivate us to work harder."

He feels that the most important factor in achieving your aims is to surround yourself with the right people, be it friends, teachers or mentors. These people not only encourage and inspire you to achieve your goals but also help you in many other ways.

Ali plans to obtain his Masters, honing his CS skills further. He is passionate about changing people's life through technology. He has previously worked as a Software Engineer at the Habib Bank AG Zurich – Dubai and is currently working as a Researcher at the New York University, Abu Dhabi.

"People need technology but not as much as people need people. The day we understand how linked we all are in the fabric of the universe, nothing will be able to stop humanity from achieving perfection"

Muhammad Abubaker Umer

BS Computer Science

Hailing from Shakargarh, LUMS enriched Umer with diverse experiences and exposed him to people from different communities and cities.

"I believe LUMS as an institution inculcated in me a rare combination of good character, being inclusive, and having the confidence to go after what you really want to do in life" he shared. Umer applied the knowledge and expertise he gained from LUMS in technology to real-life situations. He has been working closely with the Chief Minister of Punjab and the Punjab Government's mega scholarship programme knows as the Punjab Education Endowment Fund (PEEF). It is Pakistan's first endowment fund in the public sector and around 350,000 students from all over Pakistan have availed PEEF scholarships so far. PEEF scholarships amounting to Rs. 17 billion have been distributed among the poor but talented students of not only Punjab but also Pakistan. Being a NOP Scholar, Umer knows the value and importance of such a scholarship programme.

As a member of the Chief Minister's team, he undertook visits to different countries with him besides representing Punjab at a number of youth conferences held in Turkey, Palestine and Azerbaijan. These conferences provided him with an incredible opportunity to closely interact with the young leaders of the participating countries and learn from each other. Umer has recently been in touch with the former Vice Chancellor of LUMS, Prof. Dr. Sohail H. Naqvi, in this regard and has helped to increase the number of these scholarships for students at LUMS. He has also been successful in convincing the Punjab Government to include private universities in the 'Laptop Distribution Scheme'. Thanks to the efforts of people like Umer, more than 400,000 laptops were given to the students, thereby marking a major step forward in the promotion of IT education in Punjab. In addition to that, at an individual level, he is encouraging his community to invest in quality education by setting his own life as an example for them.

"I always tell people that never judge anyone based on their English speaking accent. English is just a language and by no means a measure to gauge the education or grooming level. You must believe that hard work, honesty and purity of intention always gets rewarded and never forget the role of your parents in making you the person you are today"

He credits his success as a professional to the education he received at LUMS and the mentors he had here who contributed to shaping his life and career. He used education to break free from the socio-economic shackles and worked his way up to reach the zenith of his profession at such a young age. He says that attributes such as drive, initiative-taking and thirst for action were inculcated in him by his University.

"Not resting on my laurels and moving on in search of new territory, a new set of challenges has driven me on. The kind of empowerment I feel now and the opportunities for growth I can approach could not be without self-confidence"

Umer has just received the prestigious Chevening Scholarship to pursue his Masters at the London School of Economics (LSE).

Aqeel Ahmad

BA-LLB

Aqeel started his BSc Honors degree at LUMS in 2007. He gives credit to LUMS for making him more open towards exploring new opportunities as well as being proactive towards availing them. These traits later helped him land a fulfilling job as a Legal Associate at the Justice Project, Pakistan (JPP) which gives a voice to the poorest Pakistani prisoners at home and abroad. Established as a non-profit, human rights law firm in Lahore, it provides pro bono legal advice and investigative services to those facing the death penalty, who have suffered police torture, are mentally ill or are victims in the war on terror.

"I believe I have come a long way from a small village in Swabi, Khyber Pakhtunkhwa. I think, I was meant to get here and play my part in making this world a better place. As a lawyer, I want to work towards radically reforming our legal system. Three months before my graduation, I started working with Justice Project Pakistan which is a pro bono human rights firm working for the rights of the most vulnerable prisoners in our penal system. I am still working here as a Legal Associate and will continue to serve people in any way possible."

His deep desire to help those around him stemmed from his own impecunious background. He shared that before coming to LUMS, he struggled hard with his finances. There were many days, when he did not have enough money to buy himself food and had to rely on his friends for support. He later started doing on-campus jobs to make things easier for himself. However, Aqeel states that the NOP Scholarship turned his life around and the academics at the university opened his eyes to the world in front of him.

"By taking courses from various streams, LUMS changed the way I thought. To begin with, it made me realise that every picture has more than one side and that my side of the picture does not necessarily have to be true. This in turn helped me understand that people with beliefs and ideals different from mine can also be right and should be respected. In my sophomore year, upon realising my ignorance of various disciplines, cultures and academic fields, I developed an interest in reading, which in my opinion has helped me in understanding and empathising with people."

Aqeel's excellent academic record qualified him to attend the Global Undergraduate Programme (UGRAD) hosted by the US Department of State in 2013. During this programme he was exposed to international standards of education and made everlasting bonds with his fellow Luminites over there.

Aqeel believes that his inquisitive and curious nature has played the most significant role in helping him reach where he is today. He says "I question a lot and everyone else should too." He feels that he has been successful in changing his life and has great aspirations for the future.

"Kevin Spacey once said that if you have done well in whatever business you are in, it is your duty to send the elevator back down and try to help bring up the next generation of undiscovered talent. I hope to do just the same"

Ramsha Nabeel Patel

BSc Accounting & Finance

"I hail from the bustling, antiquated city of Lahore and coming to LUMS helped me grow into a more globally conscious liberal individual who not only helps and supports my family but works for the betterment of the community as well," shares Ramsha.

Ramsha completed her BSc in Accounting and Finance from LUMS in 2014. She went on to acquire the CFA Level I certification through CFA Access Scholarship 2015 and CFA Level II certification through CFA Women in Investment Management Scholarship in 2017. Currently, she is working as a Programme Evaluation & Data Analysis - Assistant Manager at The Citizen Foundation and previously worked in IGI Finex Securities as an Equity Research Analyst.

"Immediately after graduation, I joined Babar Ali Foundation to work with Mr. Babar Ali and his niece Zehra Hyder Ali. It was there that I had the chance to utilise my research skills as I redesigned the key performance indicators (KPI) for the various educational institutes and programmes funded by the foundation. I was extremely lucky to have obtained this opportunity, I learnt immensely from it. Ramsha conducted detailed interviews with the Head of the NOP Centre, surveyed NOP scholars to gauge the programme KPIs, gave presentations on the programme and established a Student Mentorship programme for prospective, current and alumni NOP scholars. All this helped the recipient organisations spend their money better and allowed the foundation to conduct better impact analysis of its work.

"The immersion in Pakistan's foremost learning community and being surrounded by world-class faculty gave me three distinct advantages. It allowed me to indulge my philanthropic side (I served in the LUMS volunteer Emergency Medical Services team for a year and in the National Outreach Programme (NOP) as an Education Ambassador) while taking advanced courses in areas like Applied Corporate Finance, Data Analysis and Econometrics, Derivatives and Portfolio Management. But most importantly, I gained the mentorship of my professors, whose constant guidance I benefit from to this day. It was this guidance that led me to pursue the CFA designation where within a few months after graduation, I cleared the first level and currently hold the CFA "Women in Investment Management" Scholarship for Level II," shares Ramsha.

Ramsha credits her punctuality to the time management she learnt at LUMS. She also expresses gratitude to the LUMS community for helping her through a tough time in her life, "I can recall the immense amount of support I got from my instructors, LUMS friends and ACF director when my parents got separated and because of their support, I managed to regain my self-confidence." Moreover, she never hesitated in reaching out to the concerned people and authorities whenever she had trouble whether in academics or personal. She always shared or sought help from friends and her mentors, which is a sign of strength.

Ramsha has enrolled in a Masters' degree in Business Analytics at the Hong Kong University and is working towards gaining a CFA Charter-ship. She would like to work in Hong Kong's investment management industry and wants to focus on building her family and adopting a child.

"I will conclude with my favourite quote by Elizabeth Kubler that states: "People are like stained glass windows. They sparkle and shine when the sun is out but when the darkness sets in, their true beauty is revealed only if there is a light from within". I love it because it shows that it is only our inner light and resolve that can fight every external darkness," Ramsha says.